The transformative potential of IPA
By Severine van Bommel
On Monday 1 February 2021 at 6pm AEST, 9am CET, the third meeting of the Virtual Community of Practice for Interpretive Practitioners was held. After discussing new trends in IPA in general (meeting 1), and putting IPA into the current context of post truth politics (meeting 2), we decided that we wanted to focus upcoming meetings on a more in depth discussion of upcoming trends in IPA. Therefore this meeting focussed on action research as a specific new upcoming trend in IPA  research. The question guiding this third meeting was: 'What is the transformative potential of Interpretive Policy Analysis?' Our special guests for this meeting were Anne Loeber and Koen Bartels.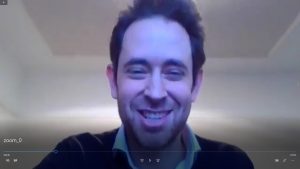 The approaches of Koen Bartels and Anne Loeber nicely contrast each other. Although Anne and Koen ask similar questions, they each take a different approach but in the end, they both arrive at a similar type of conclusion. In preparation for the meeting everyone read two of publications, one by Anne and one by Koen:
– Loeber, A., work in progress. Working towards system-level transformative change by modifying the rest space in and of a small group: experiences with a Social Lab on 'responsible research'
– Bartels, K., 2020. Transforming the relational dynamics of urban governance: How social innovation research can create a trajectory for learning and change. Urban Studies, 57(14), pp.2868-2884.
At the start of the meeting Koen Bartels and Anne Loeber gave a short introduction to the articles by saying a few words about it.
Koen Bartels started off by sharing some of his experiences with action research in a project in Amsterdam that he worked on several years back. He explained that although he sees himself as an Interpretive Policy researcher, the article is very much about social innovation in urban contexts. He explained that he still conceived of this as Interpretive Policy Analysis because his approach was very much informed by contributions from within Interpretive Policy Analysis. In relation to the question 'What is the transformative potential of IPA?', Koen argued that IPA can become transformative by creating conditions for transforming relational dynamics. He explained how his article starts from a relational world view and then reviews the relational world view that action research is based on and which is also inherent to practice theory. He also explained how such an approach could co-produce immediately useable insights, experiences and artifacts for research participants/co-learners that create a trajectory for learning and change. He also discussed that this requires the researcher being embedded in the daily practice of actors that they are doing the research with. So for Koen the transformative potential of IPA is very much related to doing things together, dealing with the feelings and emotions that come up, responding to emergent dynamics, and taking small actions to carve out a space for a learning trajectory. He also explained how for him transformation is about small steps rather than taking big leaps and that identifying what those small steps are and how to facilitate them can best be done by being part of the daily practice of the policy actors that you are trying to generate change with. Koen ended his introduction by asking us how this approach can be linked with interventions where policy actors are taken out of their daily practice for systemic reflection on what they are doing and how that can be transformed. How can change made to be more systemic and what are the trade-offs and possibilities for linking approaches in which you work from within the daily practices of policy actors, with interventions that take you outside of the daily practices of policy actors and instead require systemic reflection on those daily practices?
Anne Loeber then introduced her research by stating that if we start our research on policy processes from a critical analytic perspective then this inevitably leads us at some moment in time to think about transformative change. She drew our attention to the current times that we live in and how issues such as sustainability challenges but also COVID clearly indicate that something needs to change. She noted that these are leading questions and leading issues in Interpretive Policy Analysis but then the question becomes how an interpretive approach can or should inform our thinking about change in relation to these sort of issues. She noted how it is not a coincidence that – similar to Koen – these questions also took her in the direction of practice theory as a way forward. She also pointed out how approaches that talk about transformative change all seem to presuppose a dichotomy between the actor and a world 'out there' that needs changing. Then she argued that we need non-dichotomous methods design to inform our thinking about 'what people do' and their 'background understandings'. She pointed out that in these processes this always leads to a so-called 'rest space', the stuff that people do not talk about. She indicated that her puzzle is around methods to work with change and to work with this 'rest space' within the framework of wider societal ambitions.
After this, the participants went into break-out rooms of 4-5 people to discuss the challenging questions that Koen and Anne raised. Discussions focussed on three issues: power, ethics and practicalities. After this rich discussion, Anne Loeber and Koen Bartels gave a short reflection on the issues discussed.
First of all, discussions focussed on the role of politics in the papers and how the notion of transformative change is or can be inspired by notions of power. Participants noted that in the papers there seems to be a polity which is consensus based and which assumes that you are able to negotiate. How does this work in a highly politicised environment where there is no agreement about the starting points? Or is this buzz work of 'transformation' or 'transformation' a strategy that de-politicises something that is deeply political? Linked to this there was a discussion about the nature of transformation. If we work on very small scale initiatives, can we then really talk about transformation? Doesn't transformation refer to something bigger than that? Obviously you have to start small, but then it will need to be scaled up or scales out at some point in time. There is always a tension between small scale bottom up initiatives and the tightly capped social structures that limit the potential for change. Can these small-scale grassroot level initiatives really bring about the societal transformation that we need? There are so many examples of little experiments that go nowhere at all because it is really difficult to reframe the regime. How do you change the regime? This a wider concern that participants raised with regard to the potential for transformation.
Second of all, discussions focussed on ethical issues. When you are working in a disadvantaged neighbourhood, how do you deal with the ethical issues that come up in relation to power dynamics? Transformation and transformative change is nearly always assumed to be positive. But positive for whom? And shouldn't we focus more on resistance to negative transformation and how that then gets repositioned in this kind of power dynamic? Participants wondered if in a post-truth environment like the one that we talked about with Frank Fischer last time, are some of these ideas about transformative potential – that we were discussing in this meeting – a little bit too simplistic and a little bit too naïve? Is it even possible to bring about change? And if so, is there a role for research in this all? Does this approach also work when you are 'studying up' and when you are trying to work with senior decision makers? How does transformation work when you are working with that 'upwards' perspective? Can you disrupt the elites as such? Or is 'intervening in the trajectory of learning' or 'creating the conditions for possibility' perhaps a better way to conceptualise the role of researchers in transformations? Participants noted that we hope for transformation but also wondered if rather than directly aiming at transformation, perhaps we should aim for creating the space that makes transformation more likely. This brought us to a discussion about the different approaches within IPA and the extent to which these are compatible with action research. Is discourse analysis compatible with action research? What is the difference between critiquing discourses and actually intervening in practices in terms of the transformative potential of IPA? Participants noted that this seems to be a big point of tension within the IPA community. Participants then wondered that if you are critiquing discourses of narratives, to what extent are you then working towards transformative change and if so, how?
Third of all, discussion focussed on some of the practicalities of working in transformative spaces as a researcher. Where to draw the boundaries around IPA? Is an analysis of an innovation trajectory still policy analysis? Or is this something else? How does this relate to the early work of John Forester on community engaged change? Is this embeddedness in action research even possible in academia these days where everyone is under constant pressure to teach and publish? This resulted in a discussion on resources. If you are an individual PhD student then what can you actually do in terms of action research and change? As a PhD student, can you actually get policy makers to participate in an action research project to transform something? Or do you first have to be part of a bigger institute that has funding and that has legitimacy?
As this meeting of the Community of Practice of Interpretive Practitioners focussed on 'action research' as a new trend in IPA literature, we decided that the next meeting of the Community of Practice of Interpretive Practitioners would focus on another upcoming trend in IPA literature, namely Practice based approaches or Practice perspectives.
Interested in joining the Virtual Community of Practice for Interpretive Practitioners? Send an email to s.vanbommel@uq.edu.au